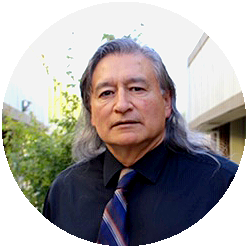 Ralph Vigil
Chair
Current Superintendent at West Park Elementary School District Serving as an educator since 1981. Hobbies include: Art, Music, Writing, Running, Fishing and Hunting Taught at: Merced Union HS District Livingston Elementary SD San Joaquin Delta Community College Merced Community College Education: ABD – University of LA Verne MEd – University of LA Verne MA – CSU Fresno BA – CSU Sacramento AS – Merced Community College Served on the Board of: FAIHP 2016-Current Merced/Mariposa Red Cross Chapter 1999- 2003 Merced County Work Force Development 1999 – 2002 Public Speaking: National Native Youth Conferences ACSA Administrator Forums University Classroom 1985 -Current Commencement Speaker: 1990 – Current "Humankind Advocate for a Progressive World Existence"
Leece Lee Oliver
Vice Chair
Dr. Leece Lee-Oliver came to Fresno after years of working in her community in Eugene Oregon, where she learned to teach and do community work from her Lakota elders, and the bay area, where she continued her education in Native American and Ethnic Studies. Today she is a professor at Fresno State, where her community work and research focus on American Indian histories, sovereignty, and wellness. She works with oral tradition, law, critical auto-ethnography, and cultural-artistic expression to explore how American Indian communities respond to legal and social issues that erode sovereignty and impact the quality of life of American Indians. Her current projects include research and consultation on the contemporary epidemic rate of violence against American Indian women and girls, cultural practices and American Indian wellness, supporting American Indian youth. Dr. Lee-Oliver serves on the board of the Fresno American Indian Health Project, which provides cultural and wellness services to American Indians in the Central Valley.
Pam Coronado
Treasurer
Pam Coronado is an active member of her tribe the Picayune Rancheria of the Chukchansi Indians. Over the years, she has served on several committees for her tribe including the Election Committee, Constitutional Reform Committee, and currently serves as the Education Committee Chair. She graduated from Fresno State University in 1990 with a Bachelor of Liberal Arts Degree and a minor in English. She went on to pursue a Master's of Reading/Language Arts in 1999 and the Professional Administrative Services Credential in 2004. She was involved in the Tewaquachi Club while attending Fresno State and recently helped establish the Native American Alumni Association. She currently works for the Fresno County Superintendent of Schools as an Executive Director where she is responsible for program development and oversight of the Court and Community Schools programs in Fresno County. Education is her passion.
Brandy Jaramillo
Secretary
Brandy is a member of the Nooksack Tribe out of Washington state. She was born and raised in Fresno County. She is a self-taught crafter extraordinaire and often teaches classes in the area. Brandy graduated from Fresno City College with an A.A. in Psychology and American Indian Studies and recently graduated last May (2018) from Fresno State with a B.A in Psychology and a minor in Gerontology.