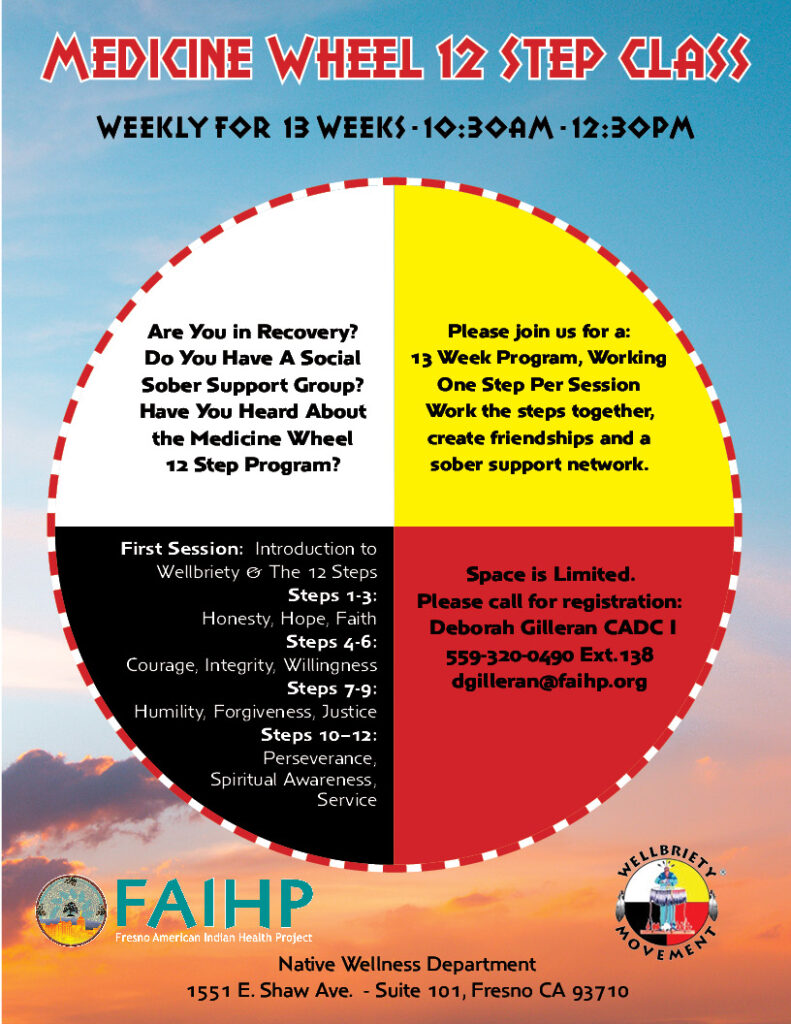 Vision: A sustainable grassroots Wellbriety Movement that provides culturally based healing for the next seven generations of Indigenous people.
Mission: Disseminate culturally based principles, values, and teachings to support healthy community development and servant leadership, and to support healing from alcohol, substance abuse, co-occurring disorders, and intergenerational trauma.
We are pleased to offer the Medicine Wheel 12 Step Class in-person. Every Tuesday at 10:30-12:30.
Deborah Gilleran,  ICADC CADC I
Substance Use Disorder Counselor – Osiyo, I am Deborah Gilleran (Tsi Tsa Lagi) Cherokee Butterfly. I was born and raised in Merced, Ca. I have been in Fresno since 2015 and involved with FAIHP since 2017. I studied at Fresno City College and I am of Cherokee descent.
I am passionate about empowering our Native Community. I provide individual counseling sessions as well as groups that provide support for Wellbriety, living life sober and well. I am a certified Wellbriety Firestarter and White Bison Facilitator, including Medicine Wheel 12 Step and Warrior Down Recovery Coach. I facilitate education for the healing of Substance Use Disorders and to help our Relatives identify their strengths and resilience.
I am also involved in community outreach to provide linkage to services in the Native Community. I am able to interact with a variety of individuals. My experience in having a substance use counseling background, working with diverse populations, and behavioral health settings has given me the knowledge in my field to ensure our Tribal Communities have access to the resources needed for continued support. Wado.