Jennifer Ruiz, MBA
Chukchansi
Executive Director
Jennifer was born and raised in Fresno/Clovis, California and is an enrolled member of the Picayune Rancheria of Chukchansi Indians of Coarsegold, California. Jennifer has over ten years progressive experience working in Indian Health and nonprofit programs. She earned bachelor's degrees in cultural anthropology and history, and then a Master's in Business Administration at California State University, Fresno. Jennifer also has a passion for inspiring youth towards higher education, and so she enthusiastically serves on her tribe's Education Committee as Vice Chairperson. Jennifer and her husband recently welcomed their first child into the world – a daughter! She loves animals (has two dogs and two cats), technology, and working/volunteering for nonprofit programs that make a difference in the community.
Nancy Pierce, RN,BSN,MPH
As the Public Health Nurse here at Fresno American Indian Health Project, I can't ask for a more rewarding position. I have been working in the public health field for over 12 years, and have been a nurse for more than 20 years. Public health is definitely my love and my calling. When I was attending California State University Fresno, where I completed my nursing degree, I worked with Central Valley Indian Health and the Native Americans up in our hills near Auberry and Friant, never knowing that I would return someday to work with Native Americans again. I enjoy the people and the challenges and hope to help them, and touch a few lives along the way.
On a personal note, I have been married for 14 years, have twin daughters ( you will hear many stories about them) who are 7 and a step son, 4 cats, and a dog. Our family spends most of our fun time camping and fishing, four wheel driving and playing on the beach. We go as often as we can. I love gardening and outdoors in general, I feel most alive in spirit and body when I am in the outdoors, especially the mountains.
I truly believe that I was guided to this position by a higher power, and every day brings a new adventure in life. Thank you for this opportunity.
Somer Shaw, M.Ed.
Creek
Director of Youth Services
Jackalyn Badoni, CAMF, CADC
Cold Springs Mono
Community Coordinator/MSPI Coordinator
Jackalyn Badoni is a member of the Cold Springs Rancheria of Mono Indians.  She is a student at Fresno City College studying Human Services and plans to transfer to Fresno State majoring in Social Work. She completed her Alcohol & Drug Counseling education and is a certified Anger Management Facilitator.  She loves working for her native community in prevention education and recreation.  In her spare time she enjoys playing basketball or volleyball and hanging out with her husband and two kids!
Lori Pahvitse
Shoshone-Bannock
Community Health Worker, CBANS
Valerie Alanis
Bookkeeper
Valerie has over 15 years of on-the-job experience in the Business Field especially in Bookkeeping and Accounting. She was born in Fresno California and has remained in the Fresno/Clovis area all of her life.  She has two brothers and one sister, and many nephews, nieces, great-nephews, and great nieces. "My greatest enjoyment is spending time with them."
She is very involved with her Church "The Church at the Southgate" which reaches out to the Southeast Community of Fresno.
Anthony Gonzales
Front Office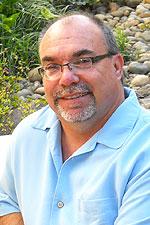 Mike Colvard
Eastern Shawnee
Social Marketing Coordinator
Mike graduated from California State University, Fresno and is a member of the Eastern Shawnee tribe of Oklahoma. His Great Grandfather, Bluejacket was a Chief. Mike has worked in every facet of the advertising design & web industry and enjoys working as a team to help others. "Every organization can benefit from Good Design."
He is married to Kandra and has three wonderful children, 2 dogs, 2 tortoises, enjoys the outdoors, cycling, playing and watching volleyball and being a self-proclaimed computer geek.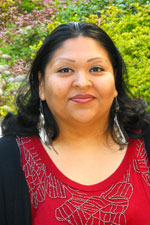 Paula Davila
Pomo
Peer Support Specialist
Amber Huhndorf
Athabascan/Yupik Alaska.
Evaluation Assistant
She earned her bachelor's degree from Oregon State University in Public Health and is currently working towards a Master's of Public Health at Fresno State. Her previous experience was with her tribal clinic as a Wellness Educator developing, implementing, and evaluating health programs.
Amber enjoys family gatherings, beach walking, and subsistence fishing for Sockeye Salmon in Alaska. She believes in her tribal traditional values: Self-sufficiency and Hard Work, Care and Provision for the Family, Family Relations and Unity, Love for Children, Village Cooperation and Responsibility to Village, Humor, Honesty and Fairness Sharing and Caring, Respect for Elders and Others.
Marina Contreras
Chukchansi
Receptionist
Marina is the second of four daughters and the loving mother of three amazing little girls. She enjoys spending time with family and friends. But the biggest joy for her is watching her girls play sports (softball,soccer and track).
Marina joined FAIHP in 2009 doing work experience through the Tribal TANF WEX Program and was then hired in 2010 as the program's receptionist. Marina enjoys helping out patients and working with the Native American Community.
David Najera
Costanoan
Transporter
Nichole Redmond
Mono
Transporter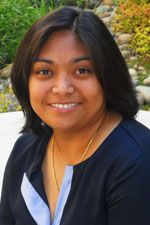 Ruby Mateos
Project Director
Over 12 years of experience in community involvement, provider relationships, program management, public policy, public health and health law.
Throughout her career, she has promoted and developed working relationship with county, local, state agencies and other organizations to facilitate coordinated programs and to exchange information and solve mutual problems.
She earned her Bachelor of Science in Business Administration degree from University of Santo Tomas in the Philippines and was one of the 10 Outstanding Business Administration Graduates, Masters in Public Health – Magna cum Laude from TUI University and Master of Jurisprudence in Health Law from Loyola University Chicago School of Law.
She is also active in the community and serves as a Member of the Board for Our Lady of Victory School and a Volunteer Mentor for Juvenile Diabetes Research Foundation. Ruby has 2 handsome boys and loves to travel and dine with the family.
Mihaela Pickering MPH, RD
Registered Dietitian/Health Ed
Mihaela was born and raised in Transylvania, Romania ("yes, it honestly is a real place!") and moved to US thirty years ago. After living in Southern California for most of those years, Mihaela decided to make Fresno her home and be closer to her family. She earned her Master of Public Health degree and completed her dietetic internship from Loma Linda University in 2007. For the past 5 years, Mihaela has worked as a Registered Dietitian providing individualized nutrition counseling in both clinical and community settings, encouraging, empowering and educating patients to manage and improve their health outcomes .
Mihaela is a member of the Academy of Nutrition and Dietetics and serves on the Board of the Central Valley Dietetic Association. She has a soft spot for animals, especially her own dog and enjoys spending time with her husband, family and friends, traveling, sailing and healthy cooking.